Background & Creative Direction
Daniels College of Business at the University of Denver came to us for a digital ad campaign with two applications: In-state and Out-state. DU wanted to target the increase of young professionals moving into the city who could benefit from a MBA. From there, the CD moved forward with "pioneers of the west," keeping ties with their mascot and working with a copywriter first to nail down the tag "Pioneers Never Settle."
It definitely does feel like the new Gold Rush here right? Back home in the East, it felt like it was a disgrace to not be busy or to be doing something enjoyable for work. I was always trying to make up for it. Since I really loved my work, I did a lot of it. I mean, tons! Many all-nighters with caffeine shots, giving myself no Me Time. "How do I get ahead of this?" One morning when I was walking back to my car to go home and clean up before people started to arrive into the office I thought, "Are these long nights alone in the office going to earn me a Mercedes one day? Do I even want a Mercedes? I really like my Ford Escape! Is this settling?"
The worst part of it was that I had lost touch with reality. With my eyes glued to the screen, hand ready on pen tool, and spending what free time I did have within a distinctive, libertarian group of friends; what I found to be the norm, was not. In addition, within the mist of the race from college to trying to 'make it,' I forgot what I was wanting to make in the first place. I was working really hard, but not smart. I had neglected to continue to explore, to plan my next steps and determine what Mercedes I was working towards. That's the beauty of the opportunities Denver offers. With a good sized tech crowd and a big startup scene, we are creating our own destinations, now pushing farther towards unique, future goals that are being fueled by ideas, not normalities and the previous weights of success. We are pioneering our future, desiring to not blend in and hoping for better health to always be on the move to stay relevant. So how does this tie into a MBA at DU?
Creative Development
I came in on this project last minute but had sit-in on the review of copy earlier on. "See if you can come up with anything for this in a hour or so, we are running out of time." The budget and demands limited the direction with the use of stock photography, but this cutthroat of choices was actually a good thing in regards of time. Looking through the current pitch deck, all I could think is how lame and uninviting "School of Business" seem to be for me. I could only picture a bunch of grown-up, ex-frat boys and old American lads bursting out the door ready to rape me. Ok, ok, ok... I am aware that maybe not everyone had the same vision. Regardless, I knew I had to paint a new identity of what a MBAer was to get the attention of millennials without losing Gen-X; I needed to give them empathy to dodge the sterotyping. Today's MBAs should still be the folks in ties that can roll up their sleeves and let loose with their ideas and dreams.
I recalled the branding of a CPA firm I had worked on a couple of years back and a photostock search that lead me to a photoshoot of children pretending to be adults in oversized, adult clothing sitting at desks. Something like that with a CO Outdoor vibe would totally work for this project. Children are almost as cute as puppies! They give you light, warm and fuzzy feelings and sometimes make you giggle. It was a cheap shot, but it was worth a try. Well, I go lucky. I discovered a photoshoot of both children and adults in front of mountains from RichVintage that allowed for a easy fix for the campaign. Below are my two favorite storyboards from the In-state Web Ad Campaign.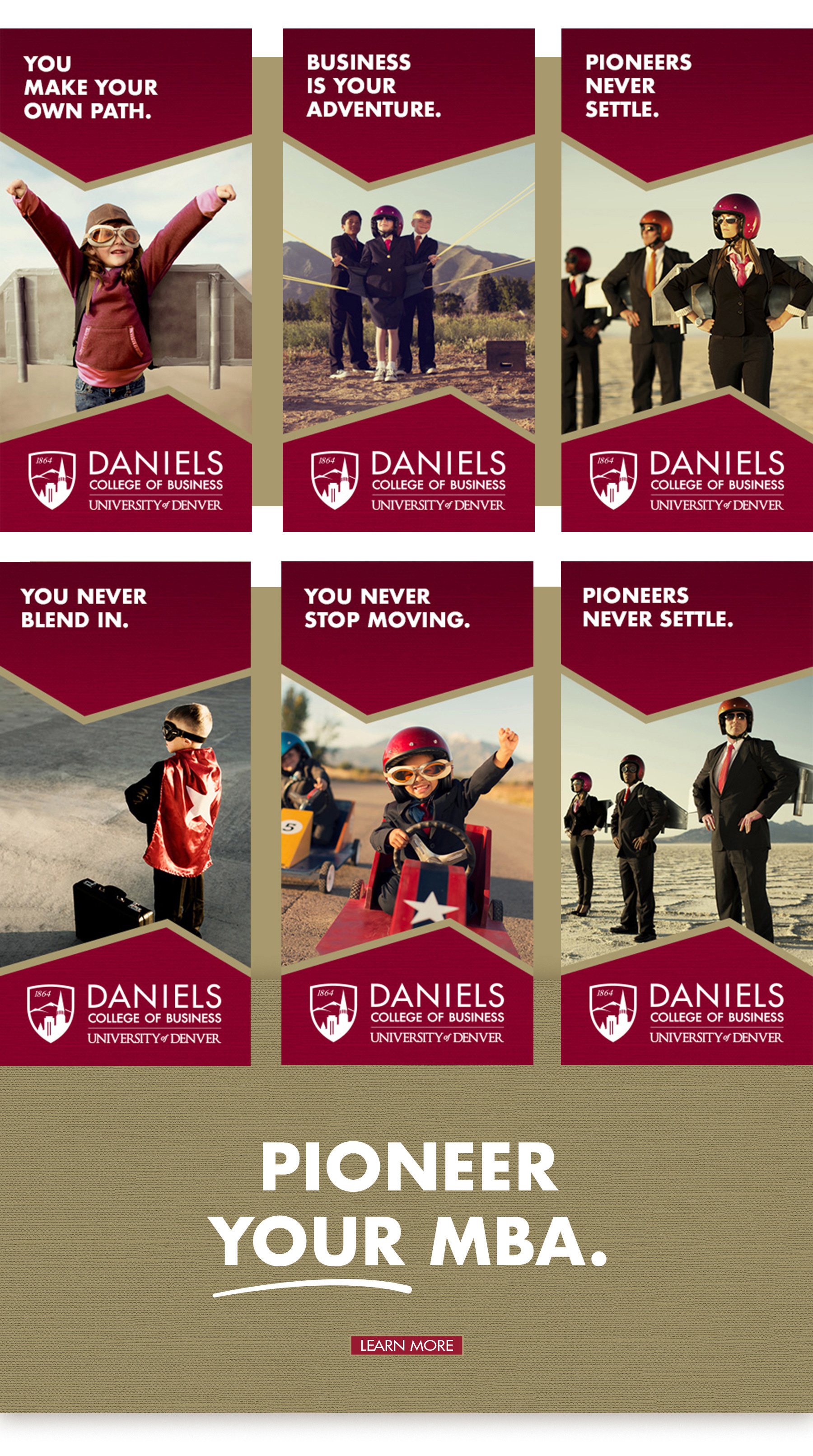 Art Direction
Imagination is the fuel for dreams. At Daniels College of Business in DU, we give you the necessities to take your ideas further and a lifelong community to have your back through the failures to your success. You never lost the wonderlust of your childhood, that is why you are here within Denver with continuous opportunities. Wear your suit of choice, take your own adventures, and keep looking forward. Here at Daniels, we are more alike in our self-reliance and curiosities than we are unalike. It is time to unite those big dreams to pioneer your MBA.