The Request: A Christmas Party Invite from Us
Christmas trees, garlands, wreaths, and bows; these are part of today's Christian celebration; Christmas, as these things were almost a hundred years ago. I do not get the special request to make a community, holiday-event invite religious-based very often. To be honest, I did debate it. Not because I am or not Christian, but because this was a holiday event to bring many together from multiple companies with different religious backgrounds. It was off target and could be offensive to some. Regardless, the client and CD wanted to move forward with a 'Red and Green Christmas!' I received a warning that the client was very traditional when it came to addressing the holidays.
The Real Quest: A Holiday Party Invite for All that Fits with Faire La Fetê
Faire La Fetê is a modern-day Sparkling Wine sold by one of the companies expected to attend. "Faire La Fetê" means to create-a-party, so of course it was going to be popped at the party. The client wanted to honor the new product by naming the party after the wine. How can I make this work? I had to find an aesthetic that supported some of the literal visuals associated with a Christian culture without offending anyone that was also referenced the French Sparkling Wine. I began researching "Traditional Christmas Décor" online, finding the typical bulbs on trees, angels with flutes, snowflakes and Santa references. But some Christians are anti-Santa. This is personally offensive to me since "Santa" is in my name, "Santana." I mean, what is so anti-Christ about Santa? Just kidding. I do think "Xmas" is uncool though. This kind of thinking is what happens when you mix religion with work, your focus gets off track! Anyways, back to the invite design. I was also scared that snowmen and snowflakes might be too less since I had already publicly debated a religious-based direction.
The Art Direction: Throw It Back to the 1920s
I zoned in on some gorgeous, vintage angel illustrations I found online. The artist was not identified but it was labeled with the date 1926. I mostly found "angels in the 1920s" to be cupid's family; kids with wings. But this one sort of reminded me of a Widespread Panic poster, decorative line work with no realistic shading. Lucky for me, 1920s French décor was still cool from "The Great Gatsby" movie's release the year before. Referencing Gatsby was also relevant because just like all his grand parties, this one was taking place in the hosts' home. With the many "Gatsby" theme parties and basic b**** Pinterest boards, I knew I could easier sell an "Art Deco" design direction. So Tada! Not the most creative art direction, but it got the job done. In this design, the main architecture is inspired by the outline of an angel holding a harp. Owning a "vintage" appeal, the red and Faire La Fetê green tied in nicely with hints of mistletoe, vines, and snowflakes for general holiday references. The jagged line treatment, fonts and sectional layout stay true to the Art Décor direction. Of course, no holiday event would be complete without peace… I dropped a dove on it.
---
Here are a few of my favorite... snippets.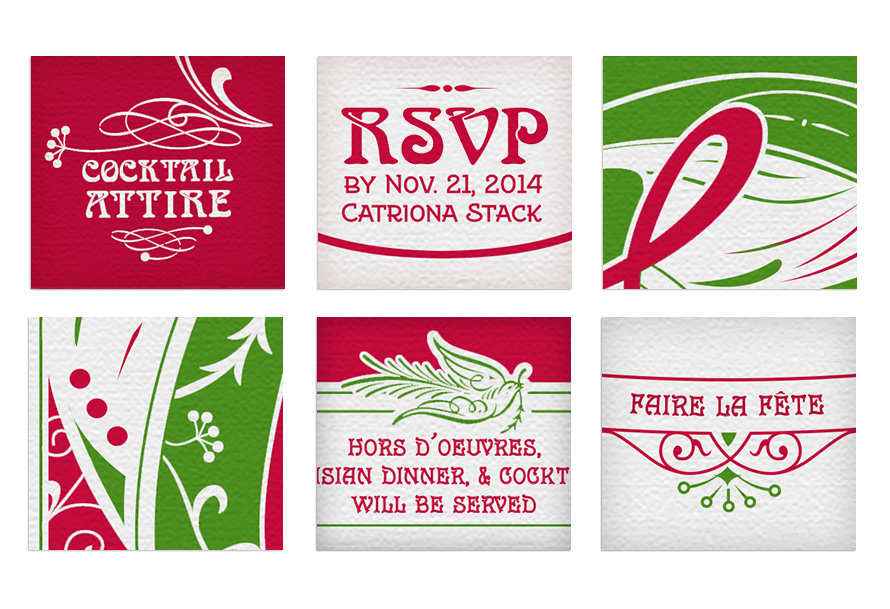 ---
#keepthepeace
*Client did not move forward with this approved design due to a change of location. The party was held at a restaurant and a new concept was created to match its branding.