I am not a fan of weddings but I am a fan of paper, at least when it is not a receipt that feels weird to my finger tips and junks up my purse and car. One of the reasons I am not a fan of weddings is because I hate to witness expenses lost to celebrate love in a traditional setting. They could go on a bigger and better honeymoon or use it towards their home. So I understand when they are not wanting to spend a lot of money on invites. That being said, it is a print project worthy of fine printing techniques. I always suggest to my clients to have at least one or two elements that set their invites apart from digital prints. In this design I went with a watercolor design that was printed on a Laid Paper. This particular project was also for a old pal I grew up with, my cousin Amanda. Projects like this for people I know are grand because I can put some personal touches. Below are some of my favorite aspects of the design.
---
I smirked when I got word of Amanda's color palette; pastels with a focus on a light watermelon and mint. When we were younger Amanda had a kitten wallpaper boarder and her brother had puppies that later changed to sports. Her room was pink and white and her mother had hung some golden framed prints on the wall. I do not fully remember what the prints were, maybe angles and I for sure remember references to the cross. Before the pink kittens and goldren frames were replaced with poster of Clay Walker, they were the visual setting of the room. The asthetics became a staple to me of Amanda's identity. The watercolor illustrations of soft pink pastel colors and the hints of gold on white combinded combined with dark cherry furniture was a room for a princess. While the room changed over time along with her personal color palette, It did not adventure too far off. As she aged, the color went into deeper shades of pink to finally red. She will soon be building her house with her hubby and I am crossing my fingers to see a dark red somewhere. Haha. Anyways, that childhood room was the inspiration for this design direction but the pink cross for the Church she was to be married was a shout out to that community. I received a little pink bible with my name in gold from that church as a newborn because it is the same church my parents wedded. And finally, the hints of vinery are for her mother, who always had a green thumb outside and inside the home. Sandy provided a loving home not just for her children but for me and everyone else that came through the door. Amanda has a lot to live up to.
---
In the back center of the invite is the wedding registration info. A silver band to mimic their rings but the big personal touch here is the lace dolly for our grandmother who passed away last Christmas. Anyone who knew our grandmother knew she was a olympic crocheter. Just a few days before she passed while in hospice, she asked a favor from me. She wanted me to get down in a bottom of cabinet where she had hid everyone's Christmas presents. They were lace runners. Just about every year we received a dolly from her created with love. But she was no longer able to push a needle through a loop due to her arthritis so she bought some from a catalog. She told me to pick which one I wanted, one for my mother and separate the rest for the family presents. I told her how pretty they were and picked one out in front of her on her bed, then walked into the other room so she did not see me tear up. She didn't know why she was home and not getting any better but no one knew that she would not make it a few more days for Christmas. This decor is for her.
---
For the RSVP we went with a front coated postcard for durability and to save on cost. Unlike the invite which should set as a memento, the RSVPs are a planning tool. You will have a fancy sign-in book at the wedding to keep. So if you are wanting to cut back on price on the wedding stationery, this is the place to do it. "Check Yes or No" is another personal touch inspired by our childhood. She was and is a country music fan so I had to include George Strait.
---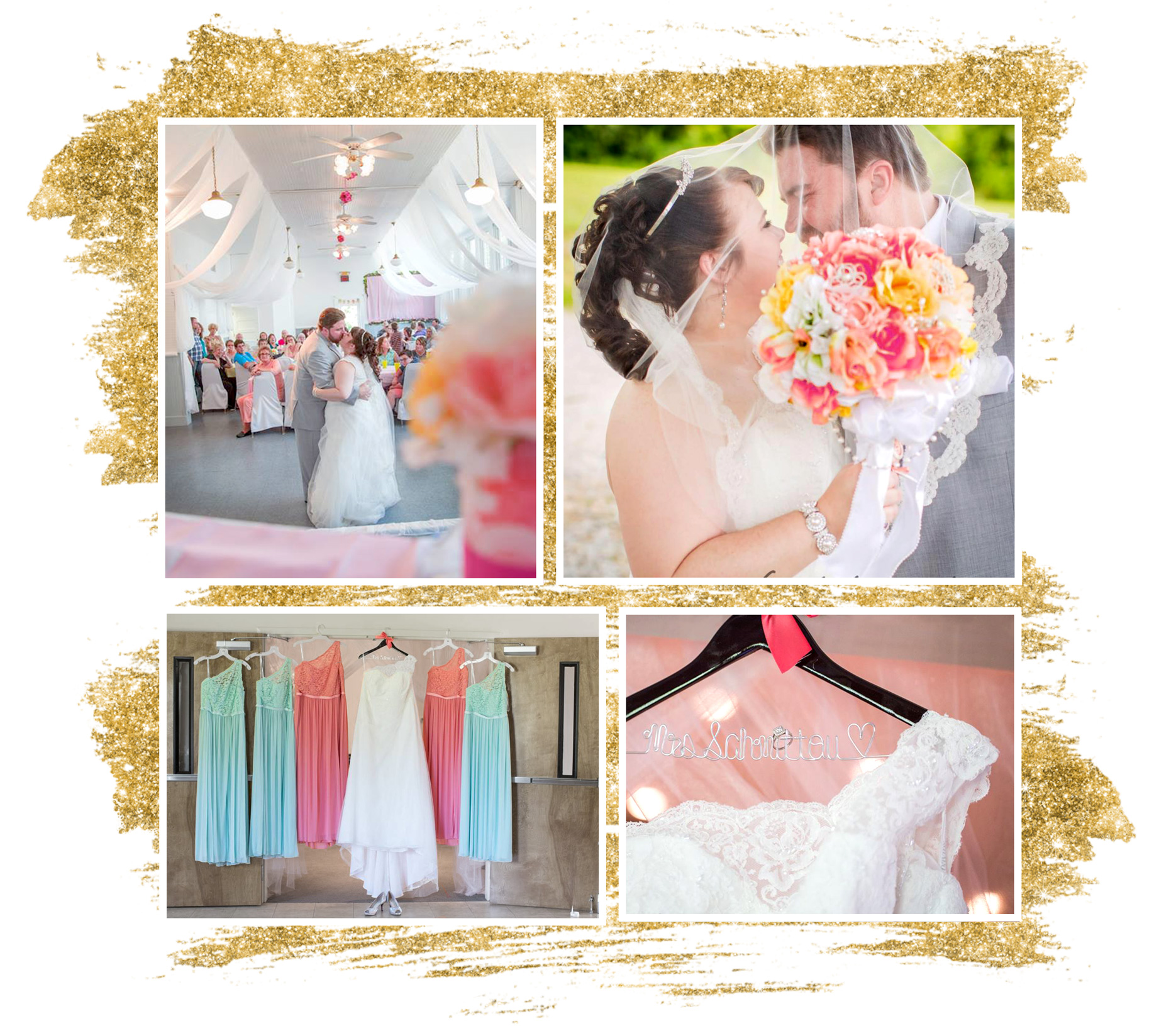 Creative Services for Your Wedding
At the end of the wedding you might be stuck with a lot of flowers, ribbons, and decor to pick through to decide on what you want to keep for memories. Seriously take almost all that crap to Goodwill. Invest and good photography and printed stationery that reprents the wedding, it takes up less space and will be easy to hang on to throughout the years.
---
Congrats Amanda & Brad